Motorola Walkie Talkie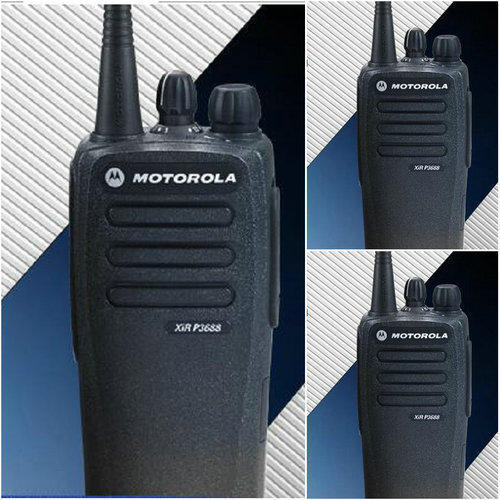 Motorola Walkie Talkie
Price And Quantity
Piece/Pieces

11200.00 INR
Product Specifications
Security Equipment

0-3 km
Product Description
Motorola Wireless Two Way Radio
This Motorola Wireless Two Way Radio helps improve your business productivity. Enable you to efficiently coordinate and communicate with your workforce, this two- way radio is rugged in construction. Enables instant push-to-talk communications across workgroups, this Motorola Wireless Two Way Radio is compatible for use with any number of networks, devices, apps, cities and facilities. This ensures enhanced safety, efficiency and productivity.
Features:
Easy set- up
Interoperability between systems
Simple to configure
UHF Radio
ADVANCED AUDIO TECHNOLOGY
Sound quality is critical for effective communications. The GP Plus Radio series is specially equipped with Motorola's voice compression and expansion technology called X-PANDTM. The X-PAN DTM feature enables crisper, clearer and stronger audio quality, allowing users to continue communicating even in noisy conditions. In addition, low-level expansion enables further improvements in audio quality by reducing unwanted background noise usually heard during pauses in conversation.
LED BATTERY GAUGE
The tri-colour LED battery gauge at the top of the radio alerts the users to recharge the battery should the battery level run low.
SWITCHABLE RF POW ER LEVEL
By just pressing one button, users can switch to a low power when communicating within limited range coverage or switch to a high power level when further distance is required. High transmit power optimises range coverage while a low transmit power conserves battery consumption.
REPEATER/TALKAROUND ENABLE/DISABLE
Users have the freedom to communicate through a repeater for wide area coverage, or bypass a repeater and talk directly to another radio if the coverage is within the range or when the repeater fails.
TIGHT/NORM AL SOUELCH
Users have the flexibility to protect their communication by selecting to a tight squelch to filter interference of unwanted weak signal; or switch to normal squelch to increase coverage.
LITHIUM ION BATTERY OPTION
Using the latest technology in battery chemistry, Motorola's GP Plus series offers a Lithium Ion battery option which provides high power at a lighter weight.
PROGRAMMABLE CHANNEL SPACING (12.5/20/25 kHz)
The series allows programmable channel spacing of 12.5/20/25 kHz; offering flexibility and easy migration of channel spacing requirements when the need arises.
4CHANNEL
Provides users with 4 channels to organise different work groups to meet their different communication needs.
CHANNEL SCAN
Allows the user to monitor activities on different channels.
SIGNALLING FEATURES
The GP328 Plus 4 channel model offers the following M DC1200 signalling:
PTT-ID (Encode)
Radio Check (Decode)
EMERGENCY "PERSONAL SAFETY" SIREN
At the touch of a button the Emergency Personal Safety Siren can be activated emitting an ear piercing alarm.
PL/DPL
Private Line and Digital Private Line enables multiple work groups to be allocated to a common channel.
TIM E-OUT-TIMER
Will time out communication after a predetermined time, allowing channel access to more users.
BUSY CHANNEL LOCKOUT
In the event of a busy channel the radio will alert the user that another person is on the channel.
GP328 Plus 16CH
Building upon the features of the GP328 Plus 4Ch, the GP328 Plus 16Ch has the following additional features:
16 CHANNELS
Provides users maximum of 16 channels to organise different work groups to meet their different communication needs.
TONE TAGGING
Allows 8 different ringing tones to be assigned to 8 specific users/talkgroups providing audio caller identification to these 8 groups.
EMERGENCY ALARM/SIREN AND EMERGENCY CALL
In addition to the easy-to-use, one touch emergency Personal Safety siren button which emits a piercing alarm, the GP328 Plus 16Ch has an Emergency Call function which when activated in the event of critical situations will send a 'pre-canned' alert back to a pre-determined radio or base.
ENHANCED SIGNALLING FEATURES
MDC1200:
Call Alert (Decode)
Voice Selective Call (Decode)
Selective Radio Inhibit
Quick Call II
Call Alert (Decode)
Voice Selective Call (Decode)
Dual Tone Multiple Frequency
(DTM F) Signalling (Encode)
GP338 Plus 128CH
Equipped with a alpha-numeric keypad and display the GP338 Plus offers enhanced functionality in addition to the features of the GP328 Plus series.
128 CHANNELS
Provides up to a maximum of 128 channels providing greater flexibility in organising different work groups.
14-CHARACTER ALPHA-N UM ERIC DOT MATRIX DISPLAY
The 14 character alpha-numeric display allows immediate communication of vital information such as PTT ID, radio strength indicator and signal strength indicator. In addition, the user-friendly icons make the information easy to read and understand. The keypad and display illuminations also provide the visibility to operate your radio in the dark.
RECEIVED SIGNAL STRENGTH INDICATOR
An easy to read on screen display indicator notifies users of signal strength in their vicinity.
NAME & TONE TAGGING
The capability of assigning 8 different ringing tones and visual caller IDs to 8 specific users/talk groups enhances audio and visual caller identification for these 8 groups.
BATTERY STRENGTH INDICATOR
Easy to read on-screen LCD display indicator alerts users on low battery strength.
MENU KEYS
The easy to navigate menu keys allow users to select relevant functionalities.
PTT-ID
Every time the PTT button is pressed, it enables the transmission of the caller ID.
STATUS/MESSAGES
This feature enables you to replace frequently used voice calls with status messages, saving you valuable communication time.
CALL ALERT
If your call to a radio has no response, the radio will emit an alert tone until the other party takes action.
Technical Specifications

General Specification

VHF/UHF

Frequency (MHz)

136-174/330-400/403-470/450-527

Channel capacity

GP328 Plus is available in 4 and 16 channels, GP338 Plus is 128 channels

Power supply

Provided through rechargeable battery-75V

Dimensions(Radio footprint height excluding knobs)
With Li-Ion (Slim) Battery
With Li-Ion (Hicap) Battery
Height x Width x Depth
101.5mmx55.5mmx30.5mm
101.5mmx55.5mmx35.5mm

Weight

GP328 Plus

GP338 Plus

With Li-Ion (Slim) Battery

250g

250g

With Li-Ion (Hicap) Battery

270g

270g

Average Battery life@5/5/90 cycle
With Li-Ion (Slim) battery
10 hours @ low power
14 hours @ low power
8 hours @ high power
11 hours @ high power

Sealing

Withstands rain testing per MIL STD 810C/D/E and IP54

Shock and Vibration

Protection provided via impact resistant housing exceeding MIL STD 810C/D/E and TIA/EIA 603

Dust and Humidity

Protection provided via environment resistant housing exceeding MIL STD 810-C/D/E and TIA/EIA 603
GVTEL Communication Systems is one of the recognized suppliers of Motorola Wireless Radio in the domestic industry. Our Motorola Wireless Radio is loaded with advanced features to accommodate with the diverse communication needs. We provide suitable range of systems keeping in mind the diverse market requirements.

Motorola Wireless Controller is recommended for meeting accurate functionality & provides durable performance. Motorola Wireless Controllers are designed by a panel of expert professionals who are highly skilled to design the best quality model. This device features:

Robust construction
Low in maintenance
Light in weight

We offer Motorola Wireless Radios at competitive prices aiming at achieving maximum client satisfaction. Also, we provide avant-garde UHF Radios that are used as a modem instead of cables to make point-to-point connection between two devices. UHF Radios are made with the help of proficient personnel who delivers quality products. These are available in various types depending on clients requirements.

Trade Information
Cheque, Delivery Point (DP), Letter of Credit at Sight (Sight L/C), Telegraphic Transfer (T/T), Western Union, Paypal

1 Per Day
Contact us for information regarding our sample policy

Standard
Contact Us
Building No-14, Main Mathura Road, Opp. Tuglakabad Metro Station, Near SBI & PNB Bank, Badarpur, New Delhi, Delhi, 110044, India
Phone :+918045804646